Fall in Love with the Succubus Wings!
1/22/2020 10:11:13 AM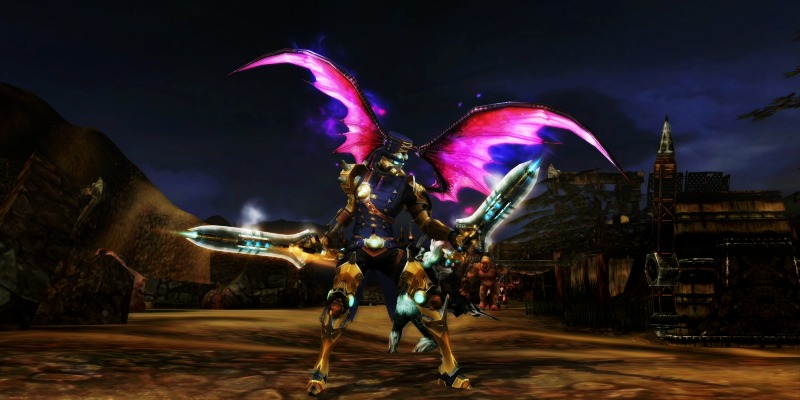 Greetings, Nevarethians,
If you are reading this, it is already too late. You are in love with the newest addition to our wing costumes: the Evil Succubus Wings. The dangerously pink, glowing webbing is outlined by sharp, dark angles that fade into an intoxicating miasma. These unique wings are a must-have and compliment any number of costumes with their contrasting, vibrant colors.
Don't let the reality of these wings fade into a dream! Purchase your Succubus Box and obtain your Evil Succubus Wings between January 22 and January 28, 2020.
Succubus Box
Price: 299 eCoins
Price x5: 1,495 eCoins
Open to receive one of the following:
[Wing Costume] - Evil Succubus
Anniversary Penetration Potion
Legendary Cube - Abandoned City
Legendary Cube - Mirage Island
Happy Birthday Ring
Perfect Core (Highest)
Enchant Safeguard (Highest)
Superior Core (Highest)
Enhanced Core (Highest)
Perfect Core (High)
Enchant Safeguard (High)
Superior Core (High)
Enhanced Core (High)
Chaos Box - Upgrade III
Chaos Box - Blessing Core II
Old Magic Book (Medium)
Mystery Cube (Rare)
Mysterious Magic Book (Rare)
Potion of Wing (2,500,000)
Chaos Core Set
Divine Stone Set
Extreme Upgrade Seal Stone (Master)
Extreme Core (Lv. 7)
Extreme Core (Lv. 8)
Extreme Core (Lv. 9)
Gold Repair Kit
Silver Repair Kit
Slot Extender (High)
Slot Extender (Highest)
Extreme Upgrade Seal Stone (Master):Astral Bike + 3
Divine Seal Stone(Highest):Astral Bike+11
Chaos Seal Stone: Amulet +9
Bike Epic Converter (Lv. 4) - Critical Damage
Bike Epic Converter (Lv. 4) - Penetration
Bike Epic Converter (Lv. 4) - All Skill Amp.
Force Wing Costume Epic Converter - Critical DMG
Force Wing Costume Epic Converter - All Skill Amp.
Weapon Option Scroll (Highest) - Sword Skill Amp
Weapon Option Scroll (Highest) - Magic Skill Amp
Weapon Option Scroll (Highest) - Critical Rate
Notes:
- Item expires on Feb 25th
For more details, and to purchase, please visit Item Shop > Hot & New > Special Promotions
Enjoy!
The CABAL Team