Adventure Awaits. Embrace the Forest Guardian!
10/12/2023 9:45:10 AM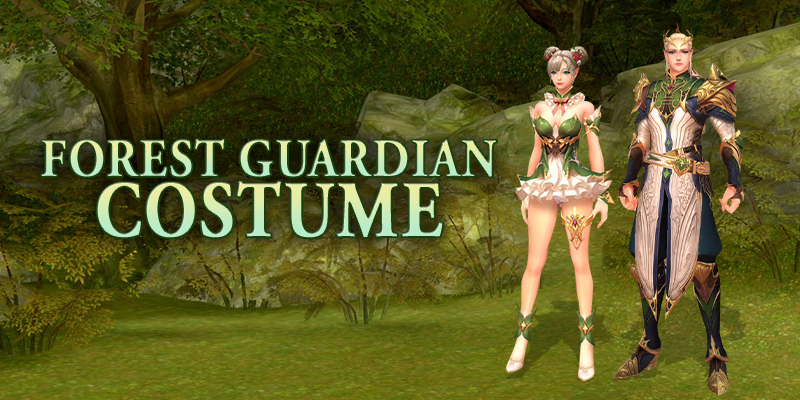 Saudações Fãs de CABAL Online,
Prepare to reconnect with the enchanting beauty of nature as we proudly announce the return of the Forest Guardian Costume for sale, only for the second time ever! This ethereal costume will be available again for a limited time, so seize the opportunity to transform your character into a guardian of the forest.
The Forest Guardian Costume will be available from October 12 to October 18. Grab yours while you can!

Forest Guardian Box
Price: 299 eCoins
Price x5: 1,495 eCoins
Open for a chance to receive:
[Costume] Forest Guardian
[Costume] Forest Guardian Hair
Anniversary Penetration Potion
Legendary Cube - Forgotten Temple B3F
Legendary Cube - Mirage Island (Awakened)
Happy Birthday Ring
Perfect Core (Highest)
Enchant Safeguard (Highest)
Superior Core (Highest)
Enhanced Core (Highest)
Perfect Core (High)
Enchant Safeguard (High)
Superior Core (High)
Enhanced Core (High)
Old Magic Book (Medium)
Mystery Cube (Rare)
Mysterious Magic Book (Rare)
Potion of Wing (2,500,000)
Chaos Core Set
Divine Stone Set
Extreme Upgrade Seal Stone (Master)
Extreme Core (Lv. 7)
Extreme Core (Lv. 8)
Extreme Core (Lv. 9)
Gold Repair Kit
Silver Repair Kit
Slot Extender (Highest)
Slot Extender (High)
Armor Option Scroll (Highest)-Sword Skill Amp.
Armor Option Scroll (Highest)-Magic Skill Amp.
Armor Option Scroll (Highest)-Max Critical Rate
Armor Option Scroll (Highest)-Critical Rate
Divine Seal Stone(Highest):One-Handed Weapon+14
Divine Seal Stone(Highest):Two-Handed Weapon+14
Divine Seal Stone(Highest):Astral Bike+14
Extreme Upgrade Seal Stone (Master):Armor + 4
Extreme Upgrade Seal Stone (Master):One-Handed Weapon + 4
Extreme Upgrade Seal Stone (Master):Two-Handed Weapon + 4
Extreme Upgrade Seal Stone (Master):Astral Bike + 4
Notes:
- Item expires on Oct 31st
- Expired boxes will not be refunded
For more details, and to purchase, please visit Item Shop > Hot & New > Special Promotions
Enjoy!
The CABAL Team